Specifications of JFX200-2513 EX
Item
JFX200-2513 EX
Head
Staggered array of 3 heads
Print resolution
300, 450, 600, 900, 1,200dpi
Ink
Type
LED UV Curable Ink:

LH-100, LUS-120,
LUS-150, LUS-350*1

Primer: PR-200*2

Supply system
1 litre / 250ml bottles (LH-100, LUS-120, PR-200 only)*3
Circulation
White ink circulation system using Mimaki Circulation Technology (MCT)*4
Maximum printable area
2,500 × 1,300mm
Media
Dimensions
2,500 × 1,300mm
Height
50mm
Weight
50 kg/m2 non concentrated load
Media
absorption
Vacuum type
Absorption fixed through use of a vacuum
Vacuum zones
2 partitions (X-axis direction)
UV device
System
LED-UV system
Service life
Over 5,000 hours*5
Interface
USB2.0 + Ethernet connection
Safety standard
VCCI class A, CE Marking, CB Report, UL (U.S. safety organisation),

RoHS directive, UL 60950-1, FCC class A

Power
Supply
Single phase, 200V AC-240V AC, 50Hz/60Hz, < 12A
Consumption
< 2.88kVA
Installation environment
Temp: 15°C-30°C | Humidity: 35%-65% RH
Dimensions (W×D×H)
4,400 × 2,450 × 1,250mm
Weight
650kg
Specifications, designs and dimensions in this list may be subject to change without notice due to technical improvements, etc.
*1 LUS-350 is scheduled to apply later
*2 PR-200 is not compatible to use with LUS-350
*3 Initial ink fill-up requires 1 litre bottle
*4 MCT works only with white ink
*5 The service lifetimes listed are estimates and do not guarantee the operation
---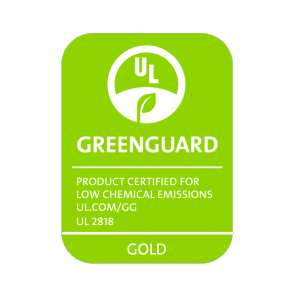 Mimaki LED-UV inks LH-100, LUS-120 and LUS-150 are GREENGUARD Gold certified.
Features of JFX200-2513 EX
Building on the success of the JFX200-2513, the new JFX200-2513 EX defines the next-generation in large flatbed LED UV printing. Thanks to our new 3D print technology, the JFX200-2513 EX introduces 2.5D layered printing where our RIP Rasterlink6 PLUS automatically creates up to 17 layers based on just one grey-scale image. Each gradation layer is processed differently, creating an amazing realistic depth with varied layer thicknesses on the printed media, resulting in seamless beautiful textures. With a high speed mode of 35m2/h, the newly designed staggered heads carriage allow simultaneous print of colour and white.
Print speed
Compared to the JFX200-2513:
Print speed is twice as fast at every print mode

Plus, the JFX-2513 EX introduces a new high speed print mode of 35sqm/h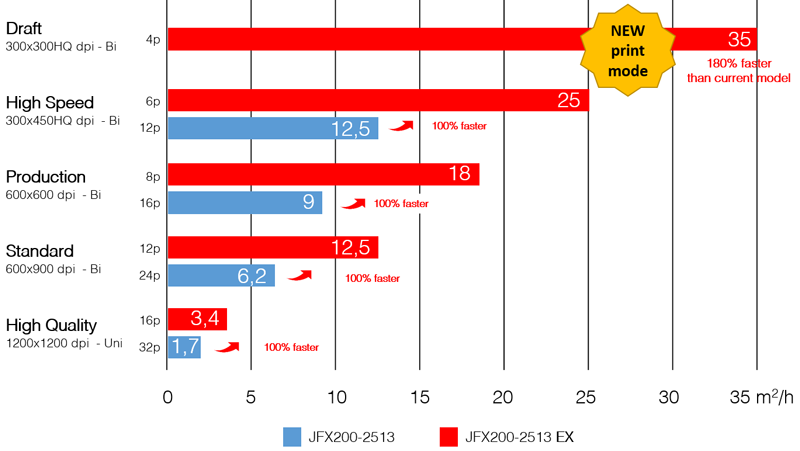 ---
New 2.5D printing technology
Easy 2.5D creations are now possible in just a few clicks for everyone using the RasterLink6 PLUS RIP
Forms relief texture on any print material

Bridges the gap between 2D and 3D applications

---
Improved usability
Foot switch
A foot pedal is installed at the front of the printer for easy turning ON/OFF the vacuum power without having to access the control panels

Vacuum units can be switched on/off via the control panel

Vacuum area is divided in X direction and can be set depending on the media size

Optional stronger vacuum unit also available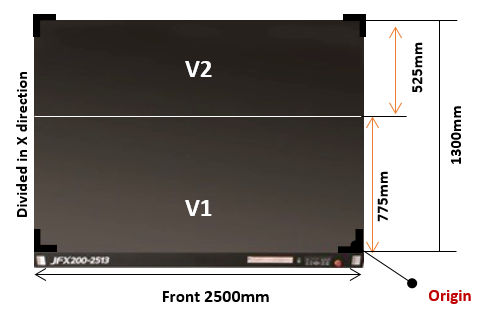 Ethernet connection
In addition to the USB2.0 connection, an Ethernet connection is also available on the new JFX200-2513 EX

It provides convenience by allowing to connect several printers with only one computer

Installation is done simply by plugging cables into the network
Event email
For remote status indication of the printer, the printer status can be sent from the printer to a PC or mobile phone via the Internet
IOT automation
MDL commands* are used to embed Mimaki printers with the unattended on-demand production lines from customer production systems and peripheral equipment, enabling easy integration with automation systems on the production floor

Utilisation of the MDL commands controls the position and height of the print head and the operation of the printer, such as the start of printing

*MDL Command is part of the SDK Kit for system integrators, available for download on the Mimaki website

External safety I/F
In addition to the standard emergency switch, an external safety I/F allows for the external connection of a wide variety of safety applications* such as safety light curtains, etc.
*Only the external safety I/F connector is included. The external safety device(s) must be supplied by the customer.
---
Enhanced uninterrupted printing
Non-stop printing with automatic maintenance
NCU (Nozzle Check Unit) automatically checks the nozzle condition

When missing nozzles are detected, they will be automatically cleaned

If still missing after cleaning, the NRS (Nozzle Recovery System) will automatically replace with working nozzles, so there is no need to wait for a service intervention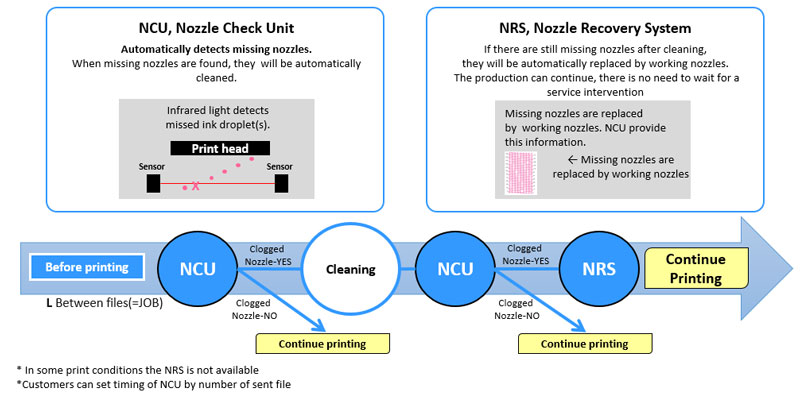 ---
Advanced LED-UV curing unit
150% higher luminance
In comparison to previous models, the newly designed LED-UV unit provides up to 150% higher luminance levels

It results in an even more stable and faster curing of LED UV inks
Less VOC
Little VOC (volatile organic compound), no ozone production

With less odour, no special "expensive" ventilation systems are required
Energy efficient
Generates less heat and turns on only when needed

Less power consumption, therefore reduced running costs
Less heat impact
With low temperature LED-UV lamps, the temperature does not exceed 30⁰C, enabling prints on cheaper and heat sensitive media, as well as media deformation (often caused by metal halide lamps which reach temperatures up to 70⁰C)
Less downtime
Long-life LED-UV lamps require less maintenance

The lifetime of LED-UV lamps is approx. 5000 hours (lifetime of metal halide lamps is approx. 350-700 hours)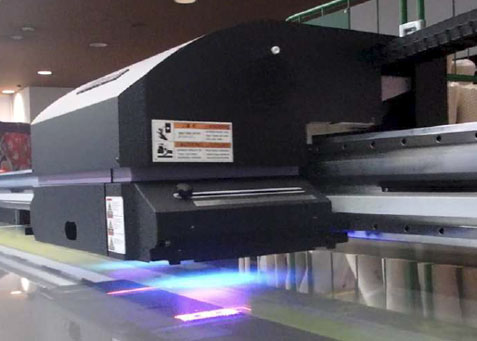 ---
MCC (Mimaki Clear Control)
Beautiful clear ink printing
Using MCC, a high quality gloss finish is achieved due to greater image quality control and less dust attachment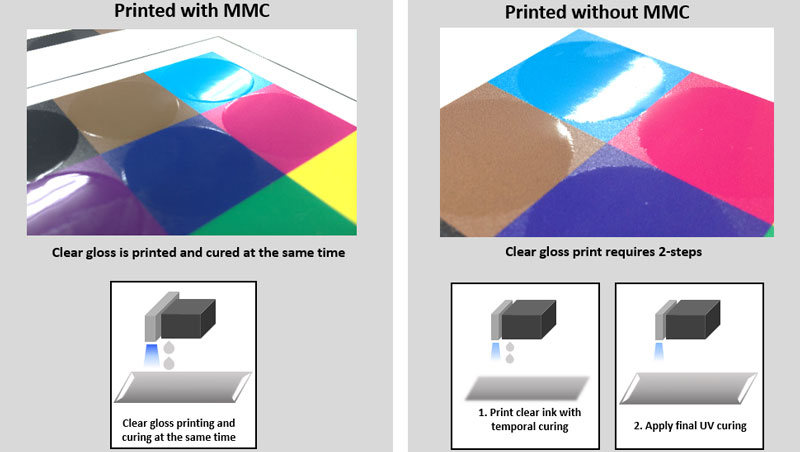 ---
LED-UV primer
Primer PR-200
PR-200 dramatically improves the adhesion when printing with colour inks

Primer can be applied to the area where it is needed

Effective and economical use of primer retains look and feel of the media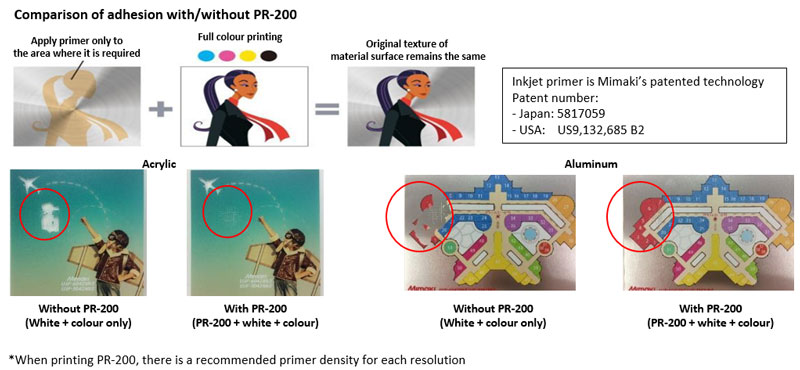 ---
MCT: Mimaki Circulation System
Prevents settlement of white ink pigments

Ensures a constant optimal ink supply

Reduces the amount of waste ink

MCT works only when the white ink set is installed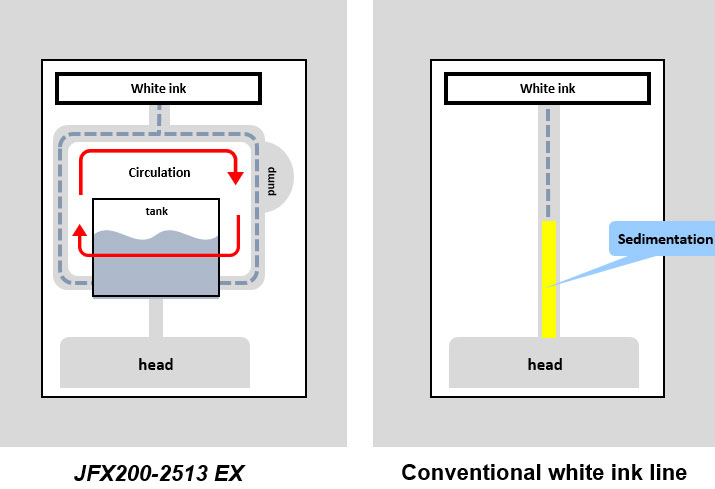 ---
Image quality control
MAPS (Mimaki Advanced Pass System) for printing without banding
MAPS eliminates banding by dispersing ink drops between the passes

This technology improves the print quality when printing in high productivity modes, and reduces uneven print density of solid colour areas

By printing in auto-mode in MAPS, the condition of MAPS is automatically selected for each print mode

Using MAPS does not change the print speed

The optimum setting condition varies depending on print data or media. Be sure to test the image quality beforehand





Variable Dot Technology: reduces grainy appearance
Variable Dot Technology enables the printer to print in 3 different dot sizes (small, medium and large) to create high quality images with smooth gradations

Variable Dot Printing uses smaller drops to produce smoother gradations, while bigger drops create uniform solid colours

By producing dots in three different sizes, high resolution graphics are created without a grainy appearance, even at high speed and in low resolution mode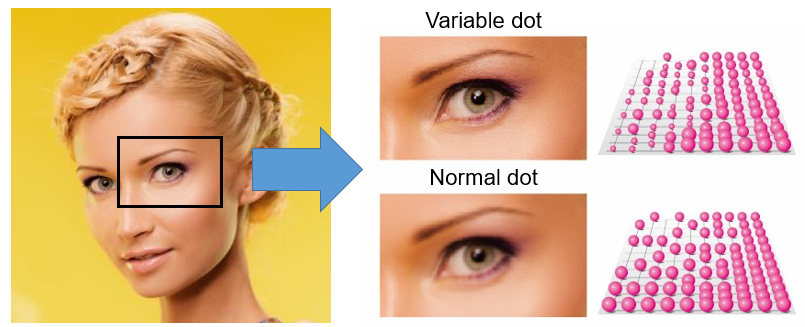 Waveform Control to achieve precise placement of ink droplets
The dots are optimized by tuning the frequency depending on ink's viscosity to accurately place and shape individual ink droplets

This results in sharper lines, text and optimized image even at lower resolution
---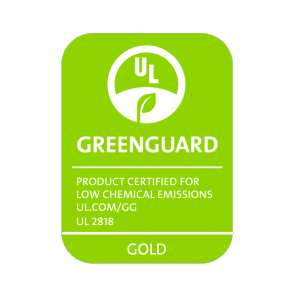 Mimaki LED-UV inks LH-100, LUS-120 and LUS-150 are GREENGUARD Gold certified.
Downloads
Brochure